WordPress is a source content management system which is free, such that anybody can use and study it, and it is open to people who want to improve its design. It was originally created to publish blogs, but evolved with time to performing other web functions such as: online stores, media galleries and learning management systems.
WordPress management tools allow one to manage all of one's site from a single dashboard, saves time and help grow online business.
The top wordpress management tools one should use based on easy usage, authenticity and accuracy, plugin management and upgrade management are:
ManageWordPress (ManageWP):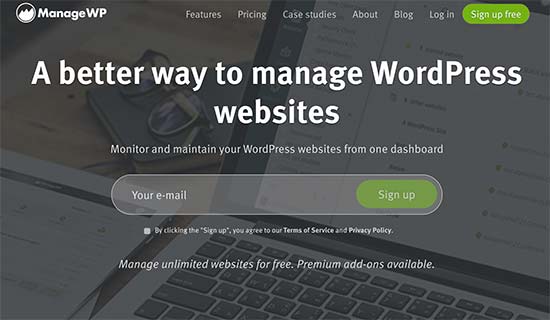 This is a freemium tool that has been in use since the past decade; it helps users keep track of analytics from their dashboard and connects to their Google Analytics account to get detailed information on customer behavior on their site, page views hit, events hit, transaction hit etc. needed to improve online business strategy. ManageWP allows users to conveniently manage multiple sites in the most effective way.
Remarkable Features:
backup for their site, templates, themes and plugins.
Google Analytics synchronization.
site performance analysis.
ManageWP has a user-friendly interface that is easy to navigate, with tools that are easy to use and tips to explain how each tool works. Another interesting attribute of the ManageWP is that it provides reliable information on events on your site, and on the dashboard are notifications for upgrade of plugins, managewp versions, counts of page views, amongst other information.
Conclusion:
ManageWp is highly recommended for its amazing features, freemium package and most of all, ease of usage.
2. InfiniteWordpress (InfiniteWP):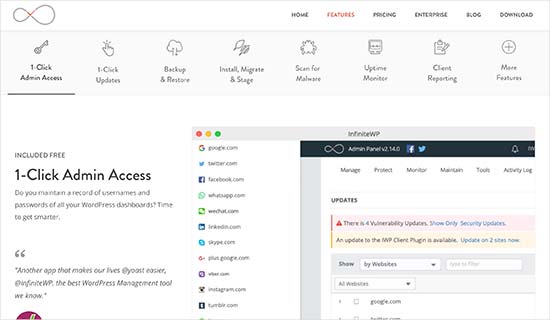 This is a self-hosted wordpress management tool, i.e., it maintains a hosting account, with restricted access to a 3rd party and is perfect for developers, operatives and freelancers. It was launched in 2012, and it offers free site maintenance to unlimited number of sites, and a premium plan of $147/year for 10 sites.
Remarkable Features:
page speed and broken link checks
Google Analytics usage report and
Conclusion:
InfiniteWP provides maximum security, decent backups and high update properties, despite its complexities.
3. Jetpack Manage: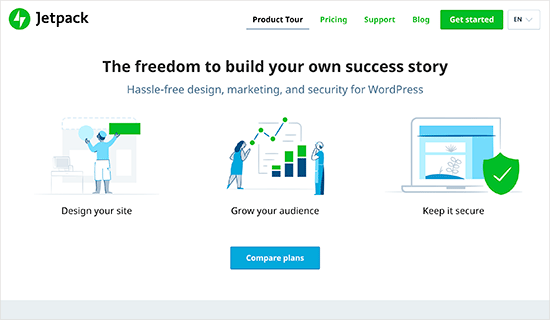 This is a hosted wordpress management tool with an appealing history. It has a level of reliability and enables users to manage wordpress plugins, new blog posts and pages creation. The jetpack manage wordpress package can be accessed by installing the jetpack plugin to the users self-hosted wordpress site, activating and linking it to the user's wordpress account, the jetpack plugin serves as a bridge between the user's site and wordpress.com. The package is generally easy to use, and it gives room for speedy switch between sites.
Remarkable Features:
Despite all these amazing features embedded in jetpack, its major drawbacks are: inability to manage core upgrades, and its dependency on the wordpress.com site to function, which many users no longer find appealing to use.
Conclusion:
Jetpack Manage is best for users who want to manage plugins and new posts from a central dashboard, and it continues security plans for backups and spam protection even when a user opts from the paid plan.
4. icontrol wordpress (icontrolWP):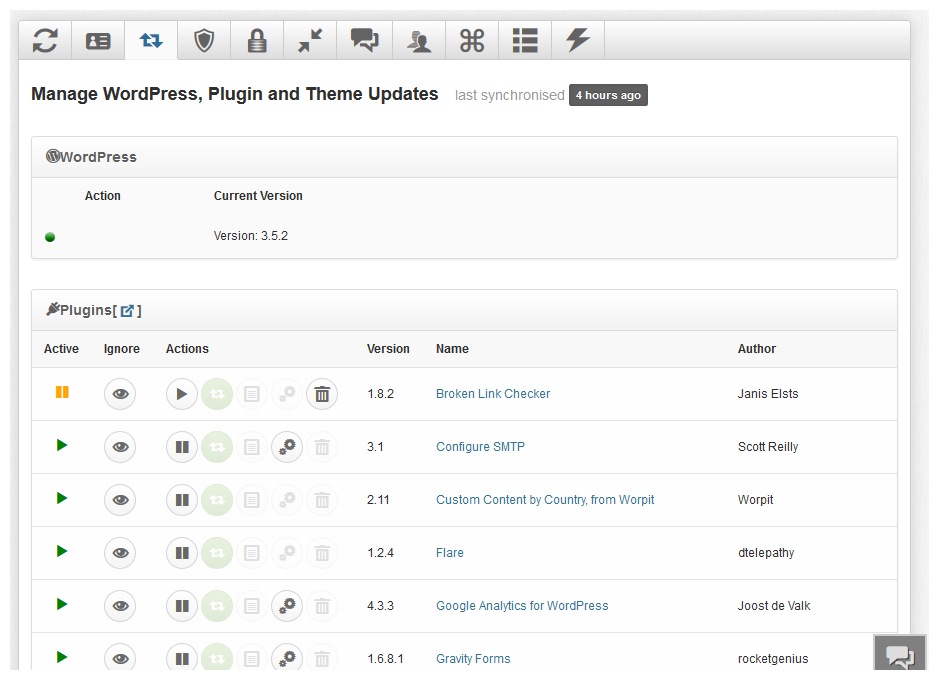 It is also a hosted management service, and provides a principal dashboard to manage all activities of the website. Plugins can be set to allow or prevent automatic updates.
Remarkable Features
maximum authentication and
security against malware.
5. Main WordPress (MainWP):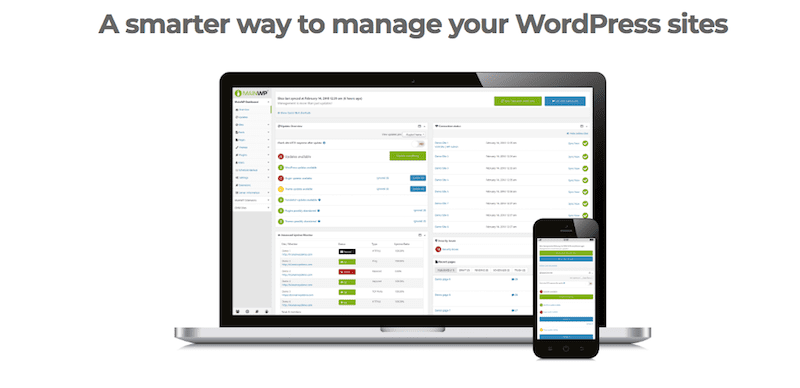 This is a self-hosted, open source wordpress management service with a free plugin system to connect unlimited sites, while other features are paid for. It is open source as it gives access to people via a source code to inspect, modify and improve on it.
Remarkable Features:
a single click access to all sites
extensions for backup management and access control
bulk upload of recent articles and
The updates tab keep users informed on major releases, and gives a warning when any update has become old, usually a period of a year.
Conclusion:
MainWp has a friendly user interface, and it has an amazing attribute in which one site acts as the hub and others connect using different plugins.
6. iThemes Sync: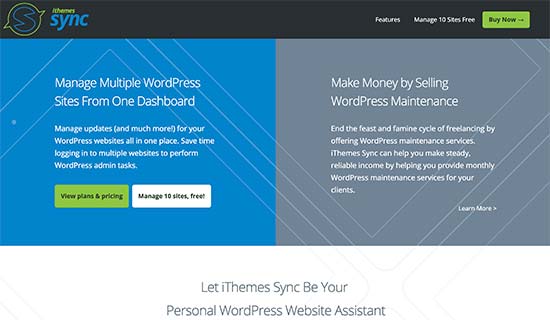 This is a free wordpress management service that is limited to 10 sites, it allows users to handle updates, themes and plugins from a central interface, while backups and security features are enabled when user installs iThemes' BackupBuddy and Security Pro Plugins on every site.
Remarkable Features:
configuration of customer dashboard
track and view Google Analytics data
generate and email customers wordpress maintenance reports
monitor sites performance
check search engine optimization and
perfunctorily share posts on twitter.
Conclusion:
The iTheme Sync is generally easy to use and manage, and to access the unique features, users have to subscribe to the iTheme Sync paid plan.
7. WordPress Central (WPCentral):
This wordpress management service belongs to a software auto-installer library called Softaculous, it offers two plans, free and paid for.
Remarkable Features:
The free plan allows users to:
do local backups and restore for unlimited sites
properly handle plugins and themes,
while the paid plan:
grants users access to automated remote backup and restore
allows users create plugins and themes which are automatically installed at once on the websites.
8. Content Management System (CMS) Commander: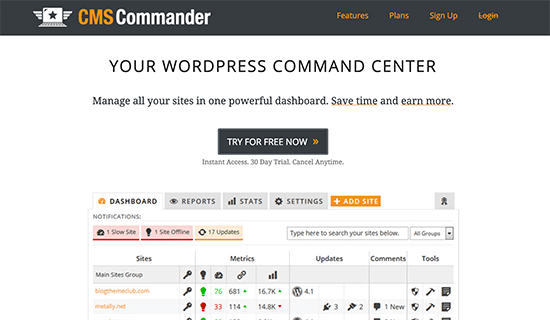 This is a paid wordpress management tool of $8 monthly, and it manages users' sites from the CMS commander dashboard.
Remarkable Features:
auto-posting and content scheduling
bulk publishing and post editing
network merger, e.g. Amazon, merger with article spinning sites to rewrite and post several websites, and
content importation from data feeds or from YouTube, Google News, Flickr sources.
9. Updraft Central: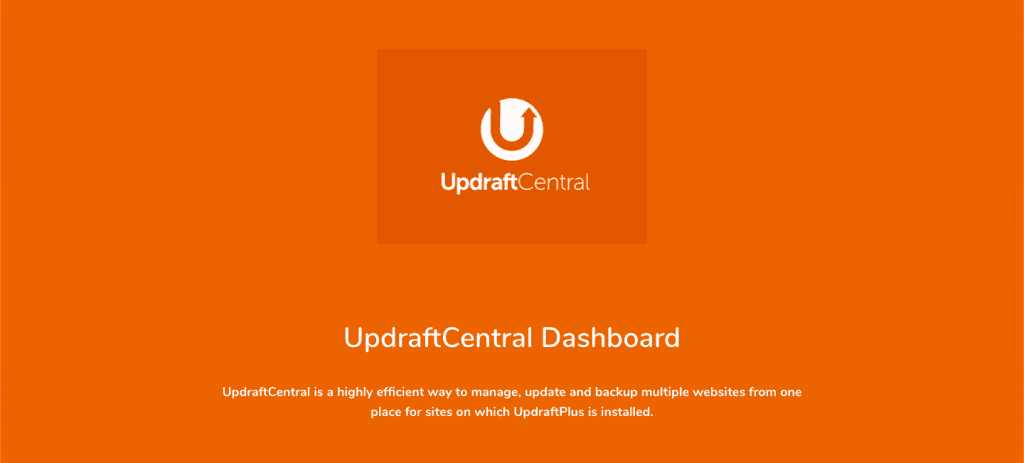 This is new, it allows users backup and update their sites from a pivot location in the cloud.
Remarkable Features:
access to all sites in a single click
update to all sites from a single location
easy backup from the updraft dashboard, and
merger with Google Analytics to see all key performance indicator in a place.
10. BlogVault &Malcare WordPress (BlogVault/MalcareWP):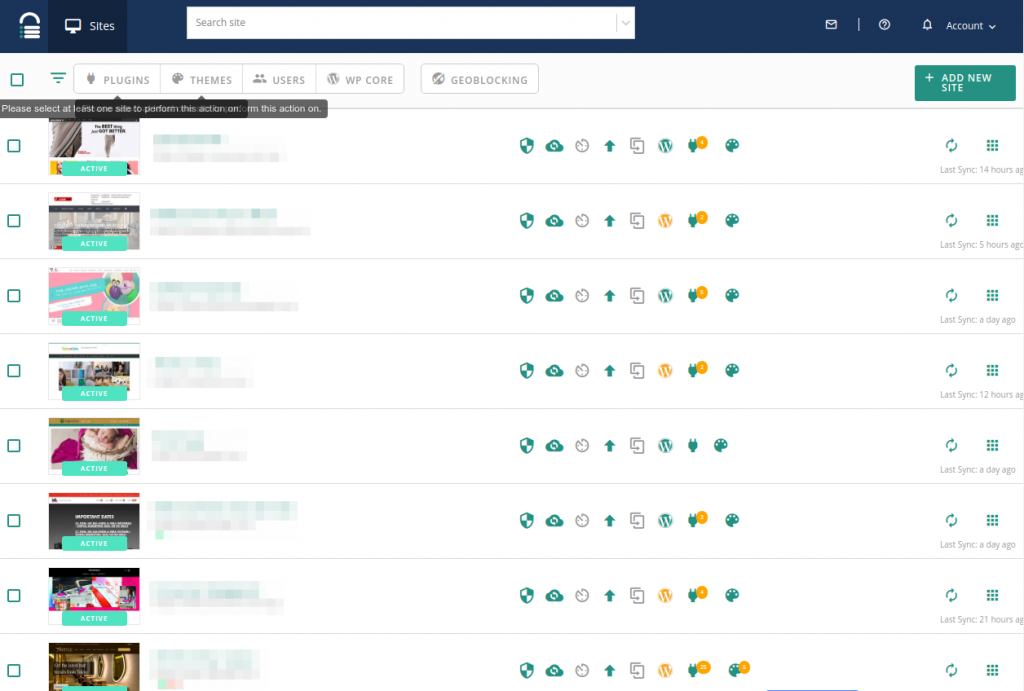 bbBlogVault is a wordpress backup plugin with a high rate of website recovery, while Malcare is a wordpress security plugin with a feature that automatically cleans the site.
Remarkable Features:
generate and email customers report
add, delete or update wordpress users
upgrades wordpress core, plugins and themes, and
Conclusion:
The BlogVault wordpress service provides an all-in-one solution for complete website management; it ensures backups that works, successfully restores sites, integrates free staging, flawless site migrations, manages multiple sites performance check and uptime monitoring.
11. WordPress Remote (WPRemote):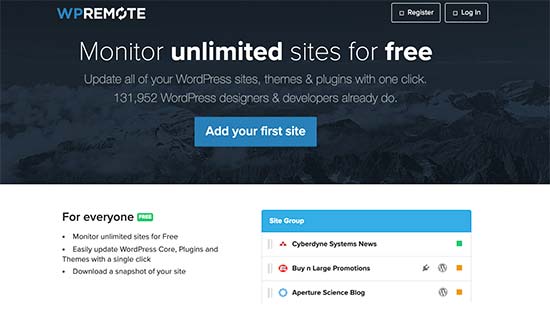 Remarkable Features:
it provides a simple way for users to effectively handle update on all their wordpress sites, core, themes and plugins
creates a platform for users to download backups and store them on their personal computers, secure file transfer protocol (SFTP) or Amazon web service (AWS). This tool is free for freelancers and individual websites.
Conclusion:
Due to its limited features, other management tools are considered first